Check it out!! One of our delegates was highlighted by the Press Times.
Click here to see the full article!! Local student spends summer in Japan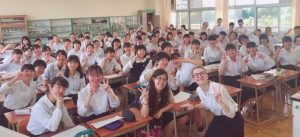 Mackenzie attended an all girls school with her host sister, Tamoe and 70 other Japanese girls! This was during her 4-week Outbound Experience to Japan through Wisconsin 4-H International programs and States' 4-H International Exchange Programs!