Summer Program Update: COVID-19
Out of consideration for the safety and well-being of our delegates, chaperones and host families, it is with a heavy heart that I must share that States' 4-H, UW-Madison, and Wisconsin 4-H have made the very difficult decision to cancel all Summer 2020 Outbound and Inbound Programs this summer.
We are deeply saddened to have to share this news with you. We know it is incredibly difficult for an experience as significant and meaningful as this to be canceled. We had remained cautiously optimistic that international exchange would happen this summer, but due to the spread of COVID-19 and the many ramifications of the pandemic, managing an international program is not feasible for this summer.
While we are unable to host our programs as previously planned, what we CAN do is create global education and citizenship opportunities for 4-H youth and families. We can strive to offer new and creative ways for cross-cultural friendships to be built. And this is what we will do!! Our team is working hard to create new global citizenship opportunities and activities that 4-H members can participate in safely from home. Follow us and stay up to date with how you can bring the joy of global citizenship to your home!!
Thank You…We are incredibly grateful to each and every one of you for your support of our programs! We are looking forward to new programming and the future to come.🍀🌏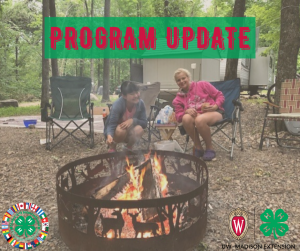 COVID-19: Program Updates
As you are aware, the COVID-19, Coronavirus, is a current global health concern. Please know that UW-Madison and States' 4-H are diligently monitoring COVID-19 with the health and safety of both host families and international delegates as top priorities.
At this time, we are planning to host our summer exchange programs. We are committed to our programming and it is a future decision based on the rapidly changing nature of this situation. We are optimistic that by summer, everything will be safe again for host families and delegates! Any changes to the summer host family program will be communicated with host families and participants, as well as posted to this page.
If you have any questions or concerns, please reach out to our office. Thank you all for your continued support of Wisconsin 4-H International Programs!